Panda twin belt spreader
Latest technology in spreading variable materials up to 40m.
Panda twin belt spreader allows the new type of spreading with two belts in great volume capacity hopper. Thanks to the twin belt spreading the volume of hopper has been increased to 20,000 L in highest hopper performance. The standard performing provides 15,000 L hopper capacity. The moving belts are fixed together with the chains to prevent sliding and losing the feeding accuracy.
Twin belt spinners are able to be accurate for spreading in long distances for granulate materials up to 40 m and for non granulate 12-16m of spreading. Two spinners are provided in stainless steel for long lasting and durable life span together with two loaders. Spinners are made with 4 paddles which can be adjusted easily for great spreading according to used material.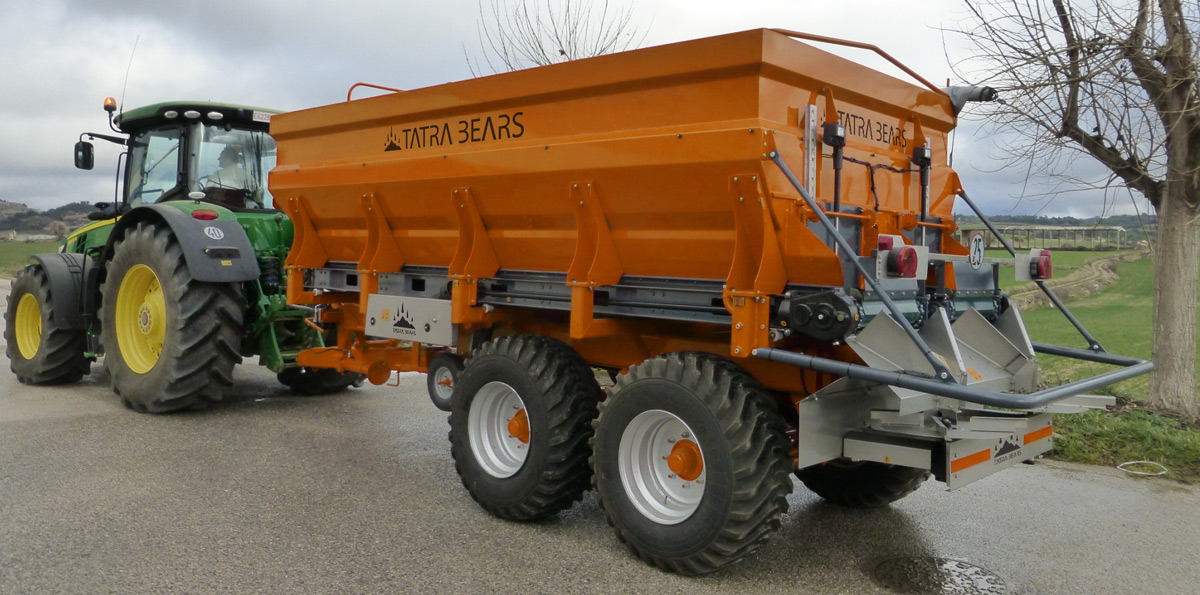 Features
Belt movement system is using driving chains to prevent sliding on the motor and the belt itself is fixed to the chains to prevent any friction even with more problematic materials.
The size of the spinner is 600mm and over the paddles it is 700mm. The paddles and spinners are used for both non-granulated and granulated materials, as the position of them can be easily adjusted. There is no need to have more different spinners.
Distance of spreading the material is controlled by adjusting the speed of the spinners rounds and paddles positioning. The maximum distance is 40m. Cabin control is an option that may be provided, as well.
Combination of a leaf sprung drive, boogie steering axle and leaf suspension provide great driving performance needed for the hopper and it supports the precision and accuracy of the feed belt drive and the spinners.
Tarp cover with ladder used for easy top view and material check is a standard component of the machine. The hydraulic operated tarp cover is may provided as an additional option, too.
As an optional technical parameter it is possible to choose 3m centered wheels, which is necessary for CTF (Tram Line Farming).
Technical information
Hopper capacity/volume
15-20 m3
Road speed
50 km/h
Working speed
25 km/h
Full length
7900 mm
Width
2550 mm
Height
2930 mm
Weight overall
6260 kg
Hopper length
5000 mm
Hopper width
2400 mm
Axle
Individual steering wheels on leaves spring system
Tyres
710/45-22.5
650/55-22.5
600/50-22.5
550/60-22.5